Dr. Massimo Bianco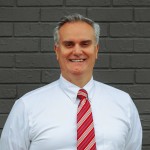 "What kind of doctor am going to see?
Dr Bianco's first experience with chiropractic came from a football injury when he was 15 years old. He had injured his neck during practice. His coach told him to go see his doctor. At that time Dr. Bianco had no idea of what chiropractic was or what chiropractors do. All he knew was his neck hurt so badly he couldn't turn his head.
The coach's chiropractor did an exam and took x-rays of his neck and with a gentle and quick movement, realigned his spine. When he got up, the pain was gone and he could actually turn his head which he couldn't do when he walked in.
Fascinated with Human Anatomy
Dr. Bianco attended National College of Chiropractic in Chicago.  He was fascinated most with human anatomy. Through studying the anatomy of the human body he discovered that under the skin, we're all connected by the one thing that controls everything that happens in our bodies: the nervous system.
The chiropractic approach is to help restore normal motion and position of affected spinal bones by specific chiropractic adjustments. The simplicity and success of this approach has been documented in numerous research projects and has helped many patients avoid unnecessary surgery.
Dr. Bianco at Home
Dr. Massimo Bianco is married to Dr. Frida Bianco. They met as classmates at National College of Chiropractic. They have three children, two boys and one girl. Dr. Bianco enjoys spending personal time with his family, running local races as well as training for triathlons.
Dr. Bianco strives to maintain a healthy lifestyle with exercise, healthy nutrition, managing stress, adequate sleep, and positive mindset.  He runs exercises regularly, limits eating fast food, makes sure to get 8 hours of sleep, keeps a positive mental attitude, and gets adjusted weekly.
A Personal Approach
Dr. Bianco is fluent in English, Italian and speaks some Spanish.
It is his promise that he and his staff will work together to assure a personal approach and treat everyone like one of the family, with importance, patience, trust, and honesty.  Take that first step to better health and call our Louisville office and schedule an appointment for a consultation to see how Dr. Bianco could help you.